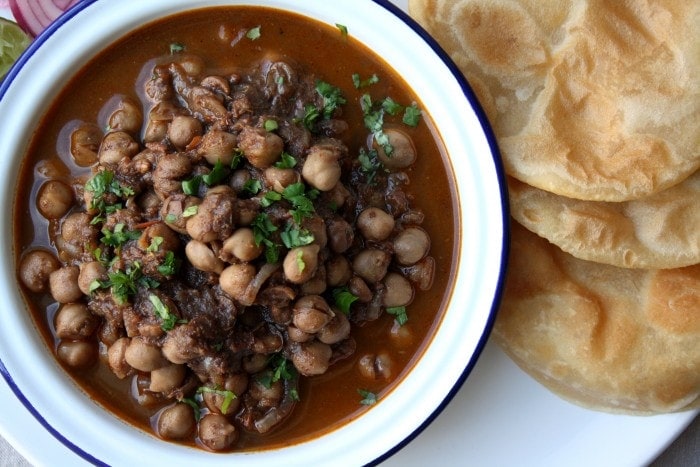 As I type this, the weather is cold, damp and chucking it down with rain. Let's just say for summer it isn't quite what you'd expect however it keeps reminding me of Indian monsoons. Watching the rain hit my window pane while I'm sat indoors, scoffing hot pakoras and chai and generally indulging in some of my favourite foods to bring along that warmth, spice and good old comfort feeling. Chole Bhature most definitely ticks all those boxes and then some!
Spicy warm chickpea curry slow cooked to perfection with a slight pomegranate tang & heat from fresh ginger and chillies. All scooped up with bhaturas; a typical north Indian deep fried bread made with plain flour, baking powder and a leavening agent (in some cases yoghurt) of sort for that pillowy soft puffy bhatura.
For my spicy chick pea curry I cook it the way my mum does and most Indian households will have their take on it. I always add a teabag whilst cooking the chickpeas. A very common practice in Punjabi households in India. It lends a rich smoky flavour to the curry in addition to a deep colour which enhances the overall result of the curry. If you can get hold of loose tea leaves they might be worth adding as some grades of tea can have a stronger colour. Just a teaspoon or so of loose tea tied in a muslin while simmering the chick peas.
Pomegranate is another gorgeous addition to this dish. I use the powdered variety lending a tangy flavour to the dish. If you can't get hold of it you can use a smaller quantity of pomegranate molasses or even some tamarind paste which have that required sour quality along with a dark colour.
This isn't an instant curry so the longer you cook the chickpeas the better your curry will taste. A thick spiced gravy with deep fried puris of bhatura and some crispy onion rings perks up any rainy day.
Method
Soak the dried chickpeas in plenty of water overnight. Drain them and place in a saucepan with fresh water (about 2 liters). Bring to a boil, simmer and cook for 1 ½ hours until they are tender. Drain, discard the tea bag and reserve the cooking liquid. Mash a few of the chick peas with a potato masher

Dry roast the cumin seeds in a frying pan for 2-3 minutes. Turn the heat off as it starts to release all the warm spiced aromas. Crush to a coarse powder in pestle & mortar or a coffee grinder. Set aside. Blend the ginger and green chillies to a fine paste in a wet grinder and set aside. Blend the tomatoes to a puree as well separately and set aside.

In a heavy bottom sauce pan heat the oil. Add the sliced onions and cook on a medium heat for 7-10 minutes. Stir frequently and as they start to change colour tip in the ginger & chilli paste

Fry for a minute and add the blended tomatoes and fry for 6-8 minutes as the sauce begins to thicken.  Add all the powdered spices including the coarsely ground cumin. Stir for 2 minutes cooking the spices through, now add the chickpeas and mix well. Also add the pomegranate powder & black salt.

Pour in the reserve liquid (about 800mls). Bring the curry to a boil & simmer for a further 25 minutes. Stir half way through making sure the gravy has thickened but does not stick to the bottom of the pan. Add a little more water if you feel it's too thick. Taste the curry and season if required, stir through garam masala, coriander & lemon juice

Serve this chickpea curry warm with deep fried puris or bhaturas and sliced red onions