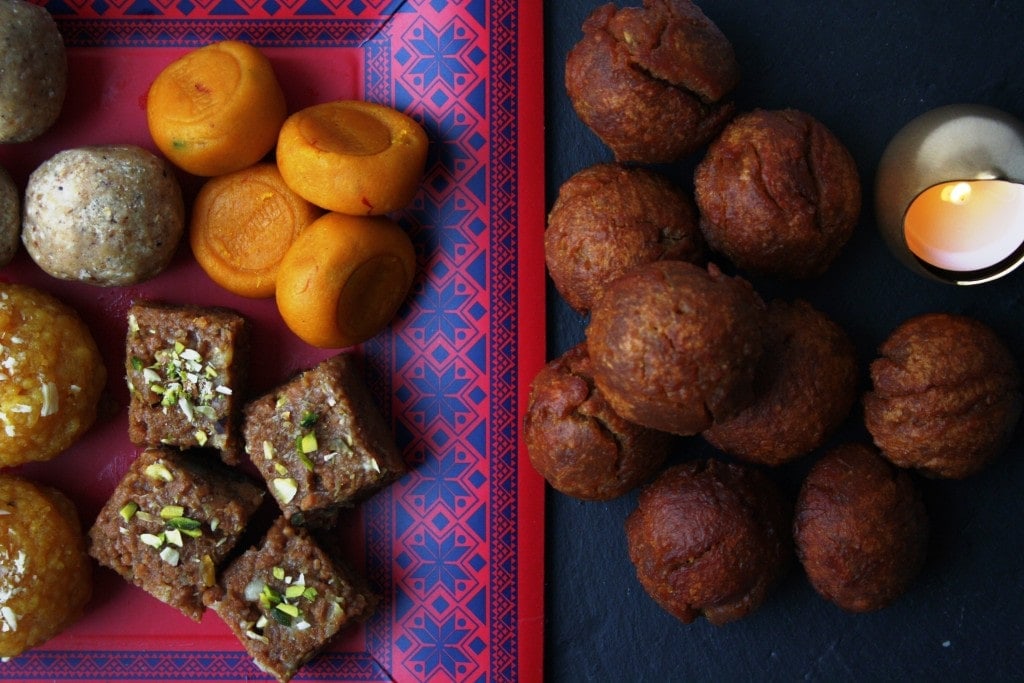 Lights, colors, fireworks and of course good food to spread the spirit of festivities on this occasion.
Happy Diwali to everyone and may the coming year bring along joy & happiness.
Diyas and Indian sweets are the order of the day at home right now. What's made it extra special this year is a little mithai (sweets)/ Faraal (snacks) hamper my mum sent over from India (mother's eh!) with all my favorite childhood treats including laddoos, pedas, barfi, chaklis and bhakarwadi. I can't stop eating it and shamelessly still intend on making a homemade sweet for family & friends. While speaking to mum a few weeks back she was raving about all the Diwali sweets my grandmother would make for our busy household in Mumbai and one of the most loved one's was sweet appe. Semolina based dumplings flavored with cardamom deep fried until crisp & golden brown.
Based on my grandmother's flair for making these little sweets I've been cooking the southern indian variety which is something similar known as 'Unni Appam'; rice flour based dumplings cooked with cardamom and jaggery.
These little morsels of goodness are very moreish and I love the addition of coconut in it as well. Most indian snacks and sweets are eaten all through the day and a cup of chai I reckon would be just what you would need with these appams. I cooked them in a traditional way using an appam pan (I was fortunate enough to be given one from a childhood friend while I was in India) but feel free to deep fry them in a deep sauce pan or wok.
Method
In a frying pan add the rice flour and roast for 2-3 minutes on a medium heat stirring continuously.  Tip in a mixing bowl and set aside to cool.

Now add the coconut to the pan and roast on a low heat for 2-3 minutes. As the color begins to change take it off the heat & cool. In a separate sauce pan add a couple of tablespoons of water along with the jaggery and melt it over a low heat. Stir continuously. Let it cool.

Now add the plain flour and ground cardamom to the rice flour in the mixing bowl. Add the banana and stir briefly. Slowly add in the jaggery a little at a time making sure to mix well. Add the coconut and the water; stir until you get a smooth dough like consistency. Set aside for 15-20 mins.

Heat the appam pan and add the oil (about 2 tbsp per disc) if you're using a sauce pan just add oil for deep frying. Add a few splashes of milk to the appam mix to get it to a dropping consistency. Add a spoonful of the batter to the pan and fry in batches a few at a time. Cook until crisp and golden brown all over. Drain on kitchen paper and serve warm.