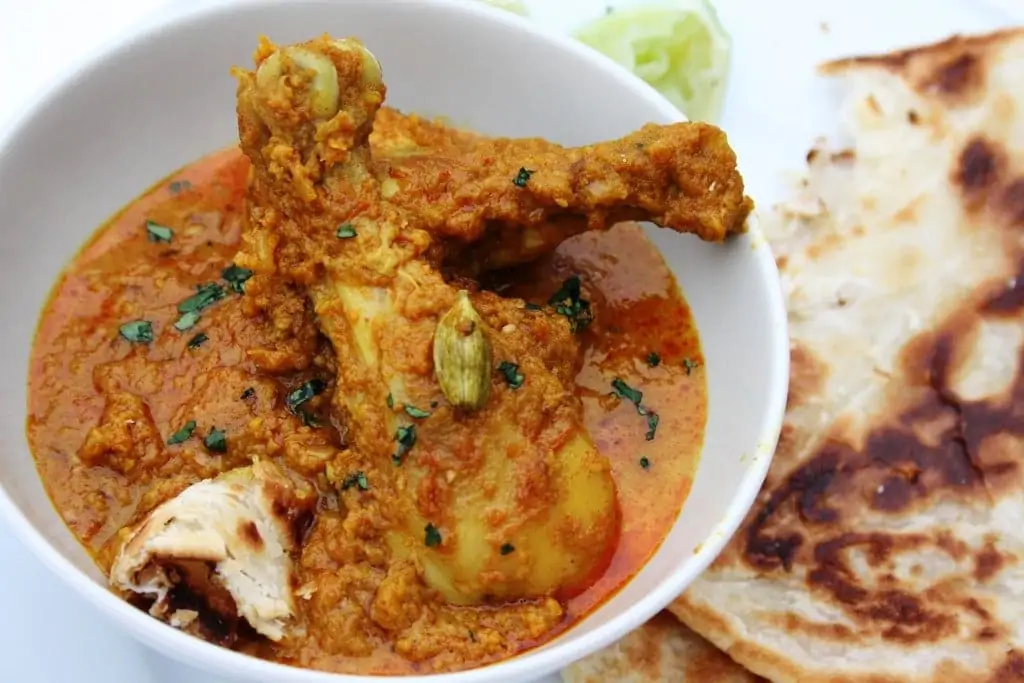 So after ALL that Christmas indulgence I woke up the day after Boxing Day craving what I always do – Curry! And to be honest it had been a while since we had eaten a hearty home cooked meal or an Indian meal for that matter. The plan was to delve back into home cooking with some veggie goodness, lentils, fish and of course fresh breads. (Yes my meagre effort to 'detox' after all that ham, goose, lamb feast!)
It was going well till I hit the beginning of January and the utter carnivore that I am a meat/chicken curry was much needed to get me going. Plus with January talk being all about diets and detox nothing makes it better for me than comfort food staving off those winter blues and frosty nights.
My recipe for easy Chicken Korma was the best excuse and cooked with just what I have in my spice box. Mopped up with flaky bread and raita on the side. January isn't looking too bad now!
There are more elaborate versions of cooking Korma. Unlike a lot of recipes you might have tried this isn't a white gravy and there is no nut paste or cream in this recipe thickened only with Greek yoghurt. For an everyday meal this is great but of course if you prefer a more decadent version you could to blend in some cashew nut paste or finish the curry with some cream.
Method
Marinate the chicken in a bowl with the Kashmiri chilli powder, salt and set aside. Blend the onions, ginger and garlic to a fine paste in a wet grinder.

Heat the oil in a heavy bottom sauce pan; add the cloves, cardamom pods, cumin seeds and peppercorn. Sauté on a medium heat and let them infuse the oil for 10 seconds. Add the onion paste and fry for 7-10 minutes, as the paste fries it will change colour and dry out slightly. Stir well to make sure it doesn't stick to the bottom of the pan.

Once it leaves oil from the sides of the pan add the turmeric and coriander powder. Stir for a few seconds and add the chicken. Seal the pieces letting the masala coat the chicken for 5-7minutes. At this stage add 2-3 tablespoons of water & scrape out any masala at the bottom of the pan. Fry for a further 10 minutes on a low heat with the lid on. Do not add any water at this stage as the juices from the chicken will create enough moisture to cook. Make sure to stir half way through.

Now add the yoghurt a little at a time. Simmer the mix for 12 minutes with the lid on making sure to give it a quick stir every now & again. Garnish with coriander and season to taste. Serve warm with naan, roti or parathas and some raita.

Note: A lot people ask me what's the best way to ensure the yoghurt doesn't split. A few things to remember; Use full fat yoghurt and add it a little at a time on a low heat. If you're unsure about adding it to a warm pan. Take the pan off the heat, add the yoghurt, stir & put it back on a low heat to simmer gently.