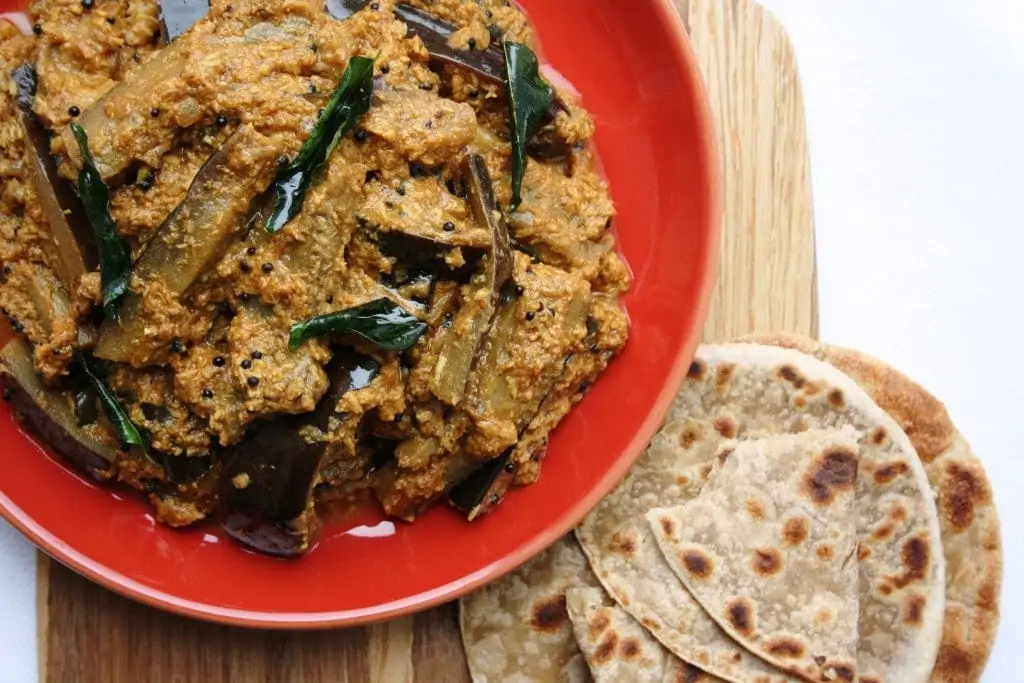 This has got to be my favourite time of the year! As a brilliant summer comes to a close it's the start of an exciting festive season to look forward to! With a frosty chill in the air, every meal I cook this time of the year always brings me joy. Anyone who has been reading my blog for a while knows how much I love hearty Indian food; from curries, breads and making small street food bites too, all with a heady mix of spices and loads of flavour. I always get asked what my favourite curry is and to be honest it's hard to find just one that I steer towards. I vary what I cook constantly and more so because there is such a vast variety in Indian cooking; I find it takes me a few months at least to cook the very same curry again as there are so many I love eating and of course cooking for family and friends. However some of my favourite dishes I cook are almost always are the one's I'm making closer to winter.
A traditional Andhra stew with aubergines and spices including chilli, garlic, mustard seeds and coconut for me is a complete autumnal treat. The aromas of the curry simmering in my kitchen alone are worth it. A classic Andhra dish that spells comfort food and one that is really simple to make. I use desiccated coconut for this dish which helps thicken the gravy along with a little bit of yoghurt. Make sure as always vary the tamarind quantities based on how concentrated your paste is. You can add more or less depending on taste. I also add some chopped chillies before serving for a bit of heat but of course that optional.
Method
Soak the desiccated coconut in 100mls warm water and set aside for 10 minutes. Squeeze most of the water from the coconut leaving a little behind. Tip in a blender and make a coarse thick paste. Add a touch more water if you feel it's too thick while blending. Set aside.

Cut the aubergine lengthwise into three slices and then into batons. Heat 2 tbsp oil in large a frying pan and add the aubergine slices. Fry on a medium heat for 4-5 minutes as they seal and change colour slightly. Drain on kitchen paper and set aside while you make the gravy.

Heat the remaining oil in a heavy bottom sauce pan over medium heat. Add the asafoetida and mustard seeds letting them sizzle and crackle in the pan for a few seconds. Add the cinnamon stick along with the cloves and fry for 10 seconds. Now add half the curry leaves and the sliced onion. Fry the onions for 6-7 minutes on medium heat as they begin to soften add the garlic and fry for 30 seconds followed by the coconut paste and the powdered spices and fry for 2-3 minutes. Lower the heat slightly and add the yoghurt. Mix well and add the water along with the tamarind paste, sugar and some salt to taste.

Bring to a simmer and add the aubergines. Cook on a low heat with the lid on for 12-14 minutes until the gravy coats the aubergine and they are cooked through. Stir half way through the cooking making sure it doesn't stick to the bottom of the pan. Make sure they don't soften far too much or become too mushy. Garnish with fresh coriander and add the remaining curry leaves. Serve chapatti or plain rice.