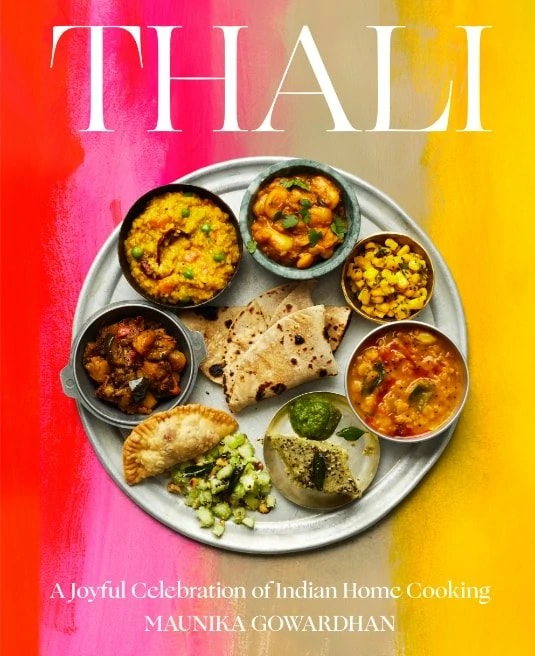 Thali
The word 'Thali' refers to the way meals are eaten in India; where a mixed selection of delicious dishes are served together on one platter. They offer a wonderful way to experiment with Indian flavours and dishes and to discover the rich and diverse range of this cuisine.
From familiar and classic Indian dishes like Tadka Dal and Matar Paneer alongside less familiar ones such as Pomegranate Spiced Chicken and Konkani Jackfruit Stir-Fry, these recipes will encourage you to explore the varied and vibrant range of food, flavours and textures across the Indian subcontinent, and give you the confidence and skill to create your own perfect thali.
Featuring a thali inspiration section at the end which showcases four stunning regional thalis to recreate at home, as well as menu ideas to help you mix and match recipes as you like, Thali is a joyful and creative approach to Indian home-cooking that will excite and inspire.
Indian Kitchen
Growing up in Mumbai, Maunika Gowardhan learned the secrets of home cooking, Indian-style. Now living in the UK, Maunika is often asked, 'what do Indians cook on a day to day basis?' And, 'how is it that you can rustle up a curry for an everyday meal when you're so busy?'
The answer is in chapters of this book. Hungry include recipes made from easy-to-find ingredients for when you're starving and short of time. And Lazy contains recipes for when you want something a bit slower, a bit comforting, but still straightforward.
Indian food is also about feasting, so when you have the luxury of time and want to put some real love into a meal at the weekend, you can turn to Indulgent, or when you have friends and family coming over then Celebratory is the chapter for you.
Whatever your mood, Indian Kitchen will inspire you to add Indian cooking into your weekly menu.