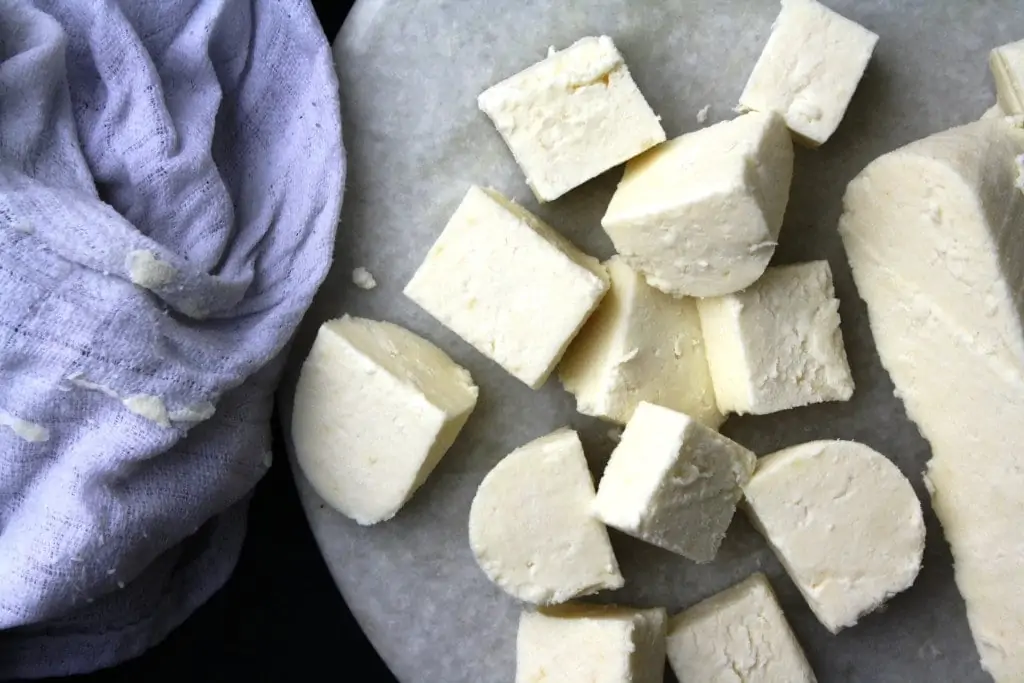 I'm all for shortcuts when time is of the essence! Tinned tomatoes, tinned chick peas and also freezing ground pastes to quicken my meals and use shortcuts which would still give me the traditional flavour I crave in Indian meals.
Although when you look at making something homemade with just TWO ingredients (Yes TWO!) and tastes all the more better for being homemade it would be far too tempting not to try. For years I have been making homemade paneer/Indian cottage cheese; a very relevant part of an Indian vegetarian diet all across the subcontinent. Paneer is quick to cook and more importantly soaks in spices in curries and marinades really well. It is a mild flavoured cheese with a crumbly texture but holds its shape in gravies when cooked. And perfect to grill or even used in salads.
When I tell dining clients and foodie folks at demos/ cookery classes how easy it can be to make your own a lot of them are surprised. Understandably so; most people would think it would be tricky to make at home. But this is super simple and even more delicious when added to Indian curries! Give it a go…
Just a few things to remember while making Paneer;
You will need creamy whole milk and I tend to get milk from farm shops; creamier the milk the better the paneer
You can also use vinegar instead of lemon juice
The leftover whey that is strained is full of goodness and can be used to make Naans, breads or even added to curries
Once refrigerated Paneer will last up to a week and can be frozen too.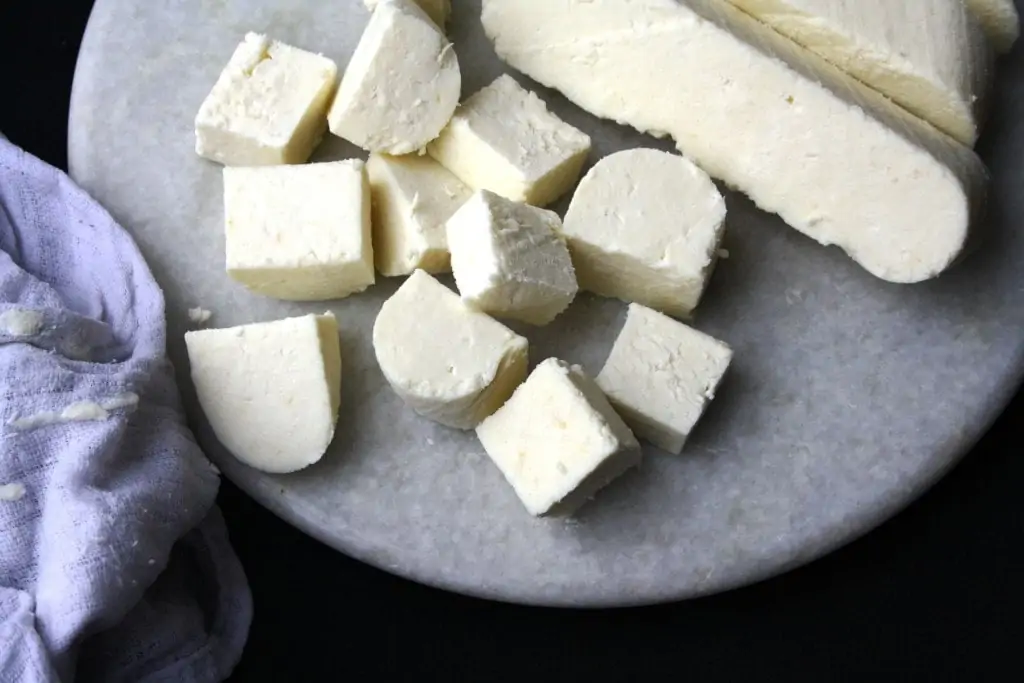 Method
Line a sieve with a cheese cloth or muslin over a bowl. In a heavy bottom saucepan bring the milk to a boil on a medium heat. This will take up to 25-30mins but don't be tempted to turn the heat higher. As the milk starts to rise turn the heat to a low setting, stir well and add 2 tbsp lemon juice a little at a time. Keep stirring on a low heat for 30-40 seconds; you can see it will begin to curdle and separate from the whey. If after this time it doesn't start to curdle add the extra tablespoon of lemon juice.

Turn the heat off and strain the mix into the muslin over a bowl (you can save the whey if you wish). Run cold water and wash the milk solids to rid off the remaining whey. Gather the muslin and squeeze out as much water from it. Twist and flatten it. Sit it on a plate and place a heavy weight over it to set for 1 hour. Unwrap the paneer cut into bite size cubes and add to your favorite curry or refrigerate in an air tight container.