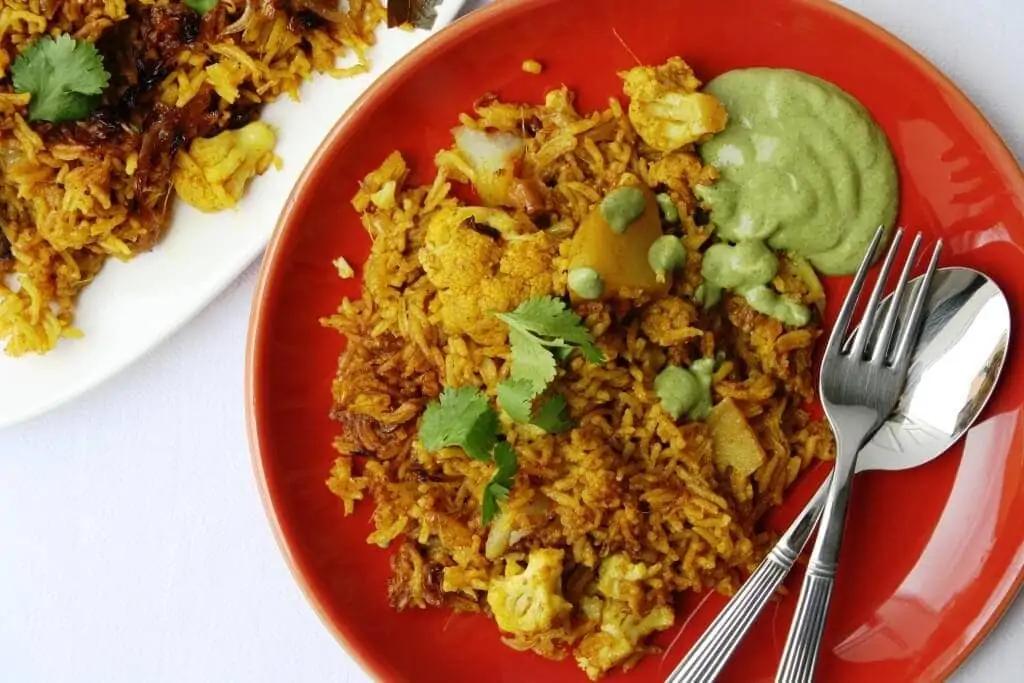 Its been snowing heavily over the last few weeks and January for me is all about feeding the soul with comfort food, one that calls for hearty meals that satisfy the senses. I am delving back in gravy dishes, biryanis and buttery parathas which seems odd really when I should be thinking of tandoori tikkas, bbq's, light salads and thirst quenching refreshing drinks.
Although I've always veered towards food that offers a sense of comfort and so winter months bring out the best part of cooking in my kitchen. There is much comfort in Indian rice dishes. They include warming spices, vegetables or meat and that slow cooking process which makes the anticipation of eating the meal even more delightful.
Tahiri; a traditional rice based dish hailing from Uttar Pradesh, brings just that to my table for an evening meal. Chunks of potato, cauliflower and rice are fried in butter, whole garam masala and chilli. Cooked in a large pot the smells are wafting through my kitchen. Tahiri can be made with meat as well although I think a celebration of vegetables with ghee or butter and fluffy rice grains makes each mouthful so delectable. Awadhi cooking is synonymous with cooking in large pots, layering of rice, meat/ vegetables and spices which are sealed and slow cooked.
Serving Tahiri is what makes it all worthwhile. When the lid is off and the smells of the fragrant rice come through a plateful alongside some raita and an onion salad is just what home cooking needs.
Method
In a large frying pan heat the vegetable oil on a medium heat and add 400gms of the onions. Fry for 25-30 minutes stirring every few minutes. As they begin to turn golden brown drain the fried onions on kitchen paper and set aside.

Coarsely crush the whole spices in a pestle and mortar and set aside. Add the garlic, ginger and chilli in a blender and blitz to a fine smooth paste with a splash of water.

Heat butter in a large heavy bottom sauce pan on medium heat until the foam begins to subside. Add the crushed coarse spices and fry for 20 seconds. Add the remaining onions and stir well frying for 12-14 minutes. Now add the garlic, ginger and chilli paste and fry for a minute. Add the coarse crushed coriander seeds, mild chilli powder, turmeric powder and garam masala. Add a splash of water, scrape the bottom of the pan stir well and fry for 20 seconds. Add the potatoes and cook for 5 minutes.

Taking the pan off the heat add the yoghurt stir well and put it back on a low heat. Add half the amount of water or stock and simmer with the lid on for 4 minutes. Stir well, season to taste and add the cauliflower florets. Continue simmering with the lid on for 5 minutes.

Now add the rice, handful of fried onions and the remaining water. Put the heat up to medium and cook for 8 minutes without the lid. Turn the heat back to a low setting and continuing cooking with the lid on for 14-15 minutes. Turn the heat off and let the tahiri rest.

Leave the Tahiri to cool slightly for 20 minutes before you open the lid. Serve with the fried onions for garnish and some fresh coriander. Accompany the tahiri with pudina raita and some mooli or onion salad.