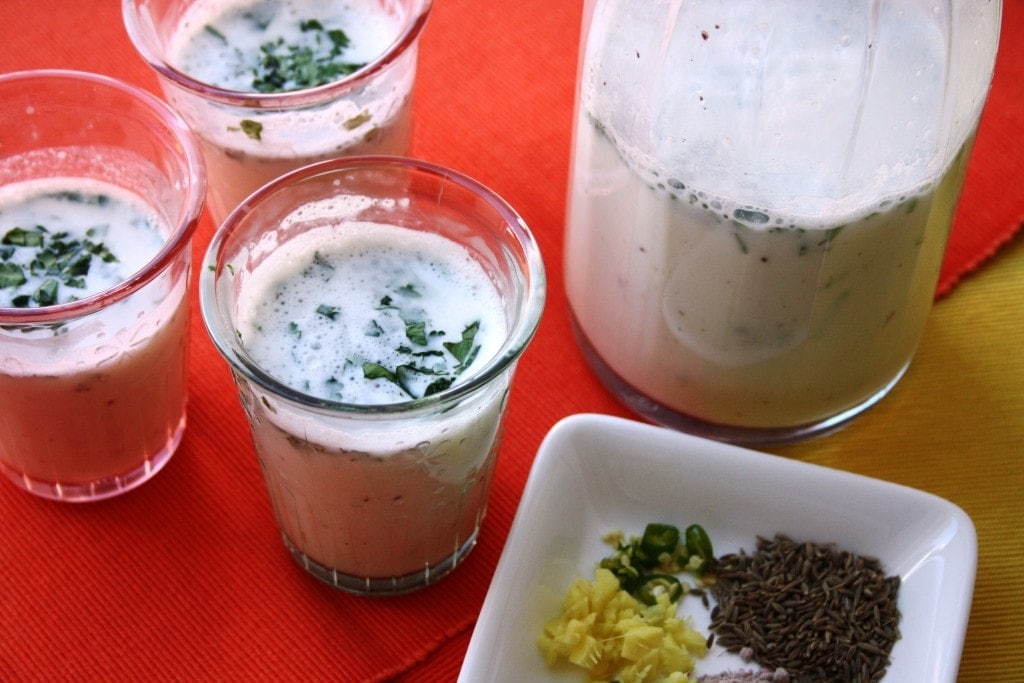 Amidst all our love for a chilled Lassi or Masala Chai to warm our senses there are a variety of Indian drinks worth exploring and sampling at restaurants, Indian homes or through travels across the Indian subcontinent.
Making 'Taak' or buttermilk at my home in India was always a family affair. I would help my mother churn the butter with a wooden buttermilk churner. You do need strong arms for this and it always seems to take forever! The reward was the fresh creamy butter which was slightly salty, tangy and was worth eating just as is. Even slathered on some chapattis topped with sugar made it all worthwhile.
The separated whey, which is slightly sour, is what we would use to make a spiced Taak. Milk in India was really rich so the resulting butter and whey would be creamy and luscious.
You will find Taak served in a lot of Marathi households; it is the perfect thirst quencher with cooling properties but also aids digestion with all the infused spices. After a heavy meal this is what's usually served either in a glass or 'vaati'/ bowl. Most regional Indian thalis will have their version of it ; an ideal drink over summer.
If you can't get hold of ready buttermilk you can make the same drink using full fat yoghurt. The consistency of Taak is quite thin so dilute it with water. Also you can use regular salt although I prefer the strong salty and pungent flavour from Black Salt or 'Kala Namak'. Add salt to taste as per your preference.
Method
Roast the cumin seeds in a dry pan for a minute on a medium heat. Coarsely grind the seeds in pestle & mortar. Set aside.

In a blender add the ginger, chilli, yoghurt, water & salt. Blend and sieve the mix in a pouring jug. This helps rid of the foam that builds as well while blending. Add the crushed cumin and chopped coriander. Stir well and chill. Make sure to give it a stir before serving in glasses.