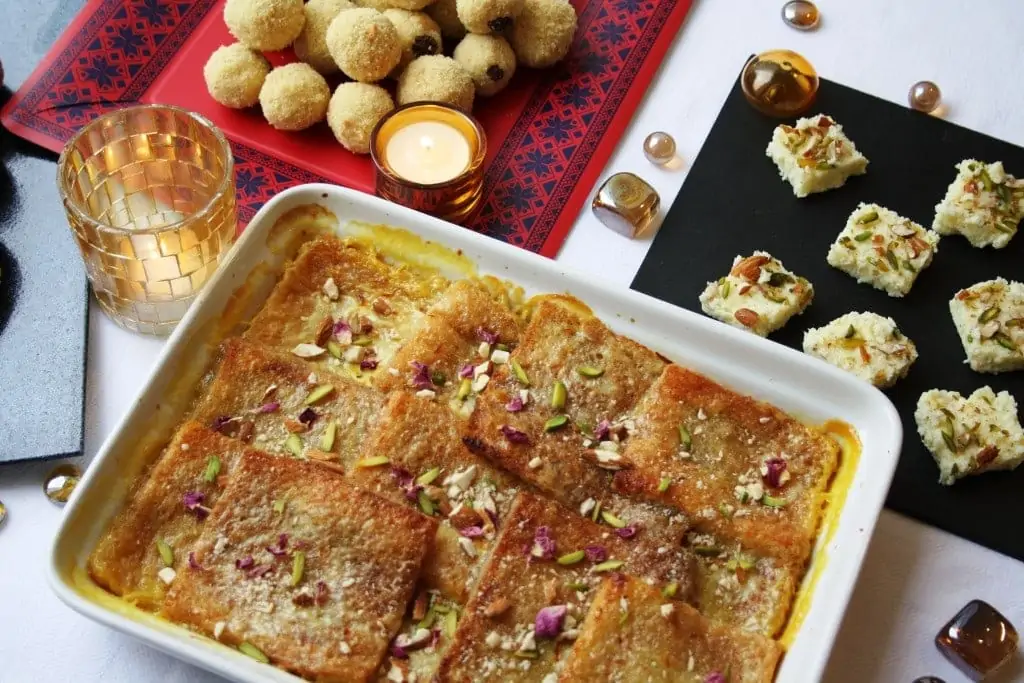 Diwali celebrations are all about indulgence and opulence. Nothing makes it even more special than sharing it with loved ones. I love entertaining during this festive season and cooking an array of Indian dishes is the ultimate way celebrating with those around. I'll be cooking Mutton curry, Pulao, boondi raita, Chole Bhatura and also Shrikhand for dessert. This year so far has been busy with work so I am savouring the time I have over Diwali. Also the house is filled with the aromas of good food, diyas and candles lit everywhere and ofcourse lots of Indian sweets as gifts for friends to take home.
One of the top favourites for a dinner party over the festive season has got to be Shahi Tukra; a decadent Mughlai bread pudding made with saffron syrup, crushed cardamom and soaked in rich milk. There's no skimping in this dish! (shahi meaning royal). Baked until soft and slightly crusty around the edges topped with almonds, pistachio and rose petals. Sinful, indulgent and so very delicious!
For my Shahi tukra recipe I use whole milk but make sure it is really rich so it coats the bread with a creamy consistency. A lot of farm shops stock some fresh whole milk which works well.
Method
Preheat the oven to 180c and butter a baking dish. In a heavy bottom sauce pan bring the milk to a boil on a low heat with the green cardamom pods. Simmer for an hour stirring constantly. Add sugar and dissolve. The milk will reduce to half. Cool slightly.

For the saffron syrup combine all the ingredients and bring to a boil. Crush the saffron slightly with your fingers before adding. Simmer for 7-10mins until sticky and syrupy.

Heat the oil in a frying pan, add the star anise to flavour the oil. Fry the slices of bread until light brown. Do this in batches and drain on kitchen paper.

Now dip each fried slice of bread in the sugar saffron syrup and lay on a baking dish. Top with most of the cardamom flavoured milk. Top with half the almonds and pistachios. Bake in the oven for 15 minutes. The bread will soak in the milk and form a crust over the top.

Cool slightly and top with remaining nuts, rose petals and serve.