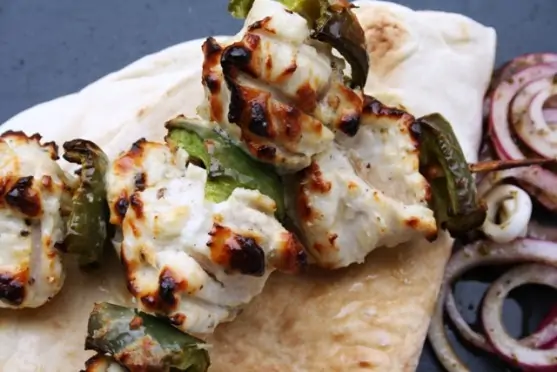 Tikkas are little bites of meat or vegetables soaking in marinade, cooked in a tandoor with spices. Basted with melted butter while cooking the pieces get their charred edges giving it the rustic feel & sense of traditional charcoal cooking in India.
All too often on a late night out with friends the norm would be to visit a kebab house or street stalls churning out platefuls of kebabs, soft rotis, paneer dishes, parathas and variants of offal cooked in spices. All served with lassi, chilled refreshing fruit juices & sometimes even thums up. The stalls used to be chaotic with little place to sit so we'd always wait outside, place the order and eat on the go. I can assure you nothing beats a late night (3am!) snack fix like buttery melted cheese parathas, rotis, chicken/ lamb kebabs cooked in lashings of thick marinade all washed down with chilled fizzy thums up.
Food is very much part of the culture in Indian communities and kebab/ tikkas are also eaten with drinks to begin a meal (or even as a snack). Skewered, grilled, baked, fried meat chunks with flavours of fresh and powdered spices served with chutneys and dipping sauces is always a winner. A sprinkling of Indian chaat masala (a mix of spices; sour mango powder, cumin & black salt) before serving and some onion rings make a drool worthy addition.
There are many varieties of tikkas on offer and Kali Mirch Murgh is one such chicken dish that simple & easy to cook at home. Traditionally cooked in black pepper; it's the coarse texture of the peppercorns that infuse the succulent pieces of chicken. I have added white pepper to enhance not just the heat but also the peppery flavour. Make sure to grind them quite coarse, as they cling on to the chicken pieces lending a bout of spice warmth with every bite. My recipe uses hung yoghurt which has been strained in a muslin. The marinade should be thick and creamy to coat the chicken. You can swap this for Greek yoghurt or Lebnah if you prefer.
Method
Add the garlic and chilli in a wet grinder with a splash of water & blend to a puree. In a mortar and pestle add the black and white peppercorns grind coarsely & set aside.

Add the yoghurt to a mixing bowl along with the corn flour. Mix well making sure there are no lumps. Now add the paste, ground peppercorns, cardamom powder, garam masala powder and salt. Marinate the chicken pieces in this mix for a couple of hours or preferably overnight.

Soak wooden skewers in water for 15-20 minutes this prevent them from burning. Preheat the oven to 200c. Thread the chicken pieces onto skewers along with the green peppers. Brush a wire rack with a little melted butter. Place the skewers on the wire rack and cook for 15-20 minutes until slightly charred around the edge and cook all the way through. Turn the pieces half way through the cooking process and baste with butter.

To serve place the chicken on warm flat bread with a sprinkle of chaat masala, some mint chutney and onion rings.