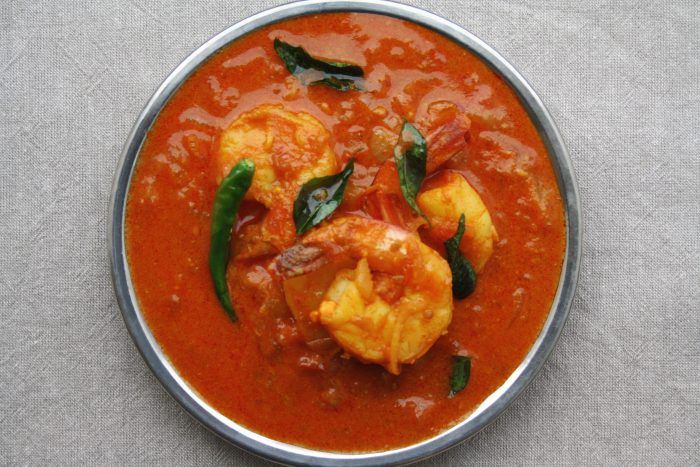 Konkani cuisine hails from the western region of India. A lot of my own family food influences have been based on this cuisine and the variety it offers. This is one such recipe that's very common in my community in India. Raw mango or 'Kairi' as it's known in India isn't just used for pickles but make for a moreish gravy dish too. My mother is very renowned for her homemade mango pickle which she makes using raw mangoes. But nothing makes a curry taste better than steeping chunks of raw mango in the gravy lending a sour tang to the dish. My fondest memories include a stack of raw mangoes peeled & chopped in our home. The smell wafting through the house was quite distinct; making it hard to resist. Even having a few bites of it raw can be very addictive.
What makes this dish unique is of course the use of raw mango but also that coconut milk is actually optional. For a slight creamy consistency I have added a few tablespoons. The flavours are a combination for sweet, sour, spicy and moist succulent prawns soaking up the spiced gravy. A firm family favourite and also something I cooked for a few locals on my travels across Malwan last year too. Needless to say it's went down a treat though they do like their food a lot hotter than I do!
I prefer using a smaller tin of coconut milk or even coconut milk powder works well. If you cant get hold of the smaller mangoes/ kairi opt for a regular unripe mango which has a delicious tang when added to the gravy
Method
Add the prawn to a large bowl and sprinkle the turmeric. Mix well and set aside. Grind the garlic and ginger to a very fine paste with a splash of water

Heat oil in a heavy bottom sauce pan over a medium flame. Add half the curry leaves as they splutter add the sliced onion and sauté over a medium heat for 7 minutes until it starts to turn translucent

Add the ginger & garlic paste and fry for 2 minutes. Add the slit green chilli along with the chopped tomatoes and fry for 6 minutes

Soften the tomatoes well; add the powdered spices and tomato puree. Stir well mixing through the spices & cooking them for a minute

At this stage add the chopped raw mango and water. Bring to a boil and simmer. Add the sugar, salt stir well and simmer on a low heat for 2 minutes

Now add the prawns and simmer the curry for 5 mins with the lid on until the prawns are just cooked. Stir in the coconut milk and add the remaining curry leaves; simmer for 2 minute until the gravy thickens and the prawns are cooked through. Turn the heat off and set aside. Serve warm with steamed rice.