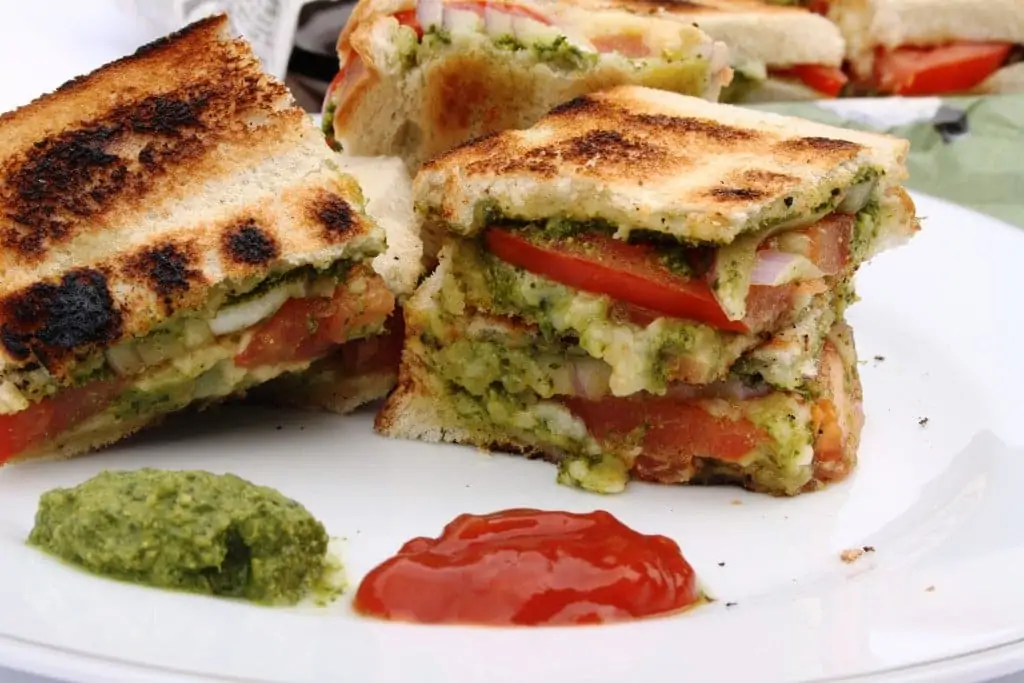 The bustling sounds of cars, buses and carts through the streets of the city. I'm always on the hunt for good food and much respite comes in the form of good chaat and my local sandwichwalla.  There is a queue but it's worth the wait and once I make my way there I go for the my 'usual' favourite sandwich. Of course with Wibs bread and Amul butter; this does make all the difference! Also topped with chutney, tomato, onions and copious amounts of cheese. Sliced bread in India is quite small so scoffing on 2-3 platefuls of sandwiches would be reasonable. Right? All washed down with freshly churned ganne ka ras/ sugarcane juice.
There are loads of options for a good Mumbai sandwich and every local will have their favourites. From the sandwichwalla at phoenix mills to a grilled cheese sandwich at elco arcade in Bandra. There are many to choose from in other cities too and each with their unique flavours and variety of sandwiches on offer.
With such a variety of street food across cities in India; a Mumbai sandwich is probably the signature street food dish that is a must try. It's easy to put together and one of the most satisfying sandwiches I have eaten. Street vendors pile it up in layers and stack up the cheese, vegetables and bread but even just a single sandwich works a treat.
This isn't like an open cheese toastie but more a toasted sandwich. Lightly toasting the bread makes it crispy around the edges with moist centre giving way to gooey cheese, softened tomatoes, onions, chutney and chillies. Don't skip adding butter to the bread. The butter ensures the bread goes crisp and also acts as a barrier so that the moisture from the chutney and vegetables doesn't seep out. Opt for vegan cheese and butter if you plan on making a vegan toastie.
Every bite is delectable dunked in some more chutney or hot sauce and savoured to the hilt.
Method
Blend all the ingredients for the green chutney with a little water and set aside. Pile all the slices of bread together and trim off the edges. Make sure you don't take all the crust off; just even out the edges.

Place the slices over a flat plate and apply butter. Now spread the green chutney on evenly and top with the sliced red onion followed by a sprinkle of the spice masala mix. Add the tomato with a little more of the spice masala mix and finally the chopped chillies. Add the cheese and close each sandwich pressing down lightly.