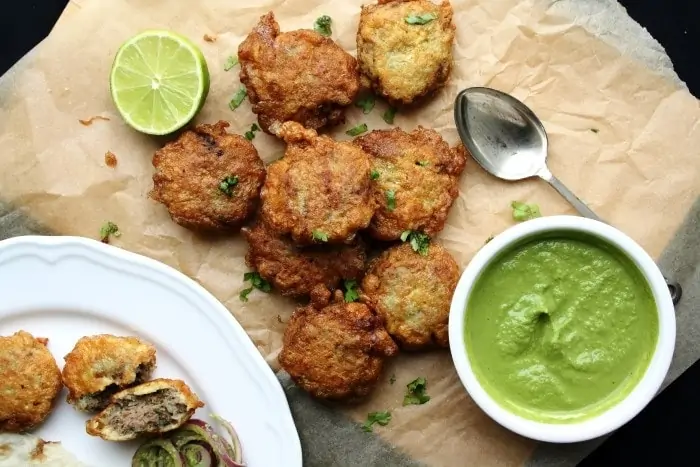 So many of you have been celebrating Eid and cooking loads of recipes from the website this week! I have spent the last 2 weeks travelling for cookery events and rustling up dishes symbolic of this wonderful festival for clients. There has been lots of biryani, kebabs, kofta curries as well as paya and delicious desserts including barfi, phirni and my favourite seviyan. No meal for me is complete without a traditional Indian sweet.
And in that respect we always began the meal with starters or snacks. So I have been making lamb cutlets with naan and a big batch for barfi for friends celebrating Eid, both of which are recipes that I have eaten at my home in India. This kheema cutlet recipe has always been a weekend favourite at our home in India. Sunny Sunday afternoons were always relaxed, leisurely and a day filled with a good Indian feast. The sizzling sound of the cutlets frying in the kitchen and aromas filled our home and hearts with delight, making lunch even more enticing. Some days it would be served alongside some dal and rice or even some pulao. It was also something mum would cook at dinner parties. The start of the parties was usually a few drinks with some vegetarian snacks, chicken dishes and these cutlets with pudina chutney or tomato ketchup. For me, served with a fresh spicy mint chutney, some crisp onion rings and naan or tandoori roti would also be perfect for dinner. It's a really simple recipe to cook with so much flavour. A few things to bear in mind when making the cutlets; make sure to knead the minced lamb before you add all the ingredients as it becomes sticky and dries out slightly which helps with binding. Always opt for a really good quality garam masala if it is shop bought as this spice blend makes all the difference and adds so much flavour to the lamb cutlets. I use my own home ground blend which I have shared in my cookbook Indian Kitchen. It's intense and add the right amount of warmth to the kheema.
Method
Add the minced lamb to a large mixing bowl and knead it for 4-5 minutes. This evens out the mix and also slightly sticky which helps with binding the cutlets. Add the garam masala, chopped onion, garlic paste, ginger paste and chilli paste. Mix well and add the coriander and mint along with the salt. Mix well and set aside for an hour or preferably overnight.

Soak the slice of bread in water for 5 minutes. Squeeze out as much of the water as possible, break it into pieces and add it to the marinated kheema. Mix well making sure there are no lumps of bread, the bread works as a great binder and holds the cutlets together.

Heat oil for frying to come ½ of an inch up the side of the pan over a medium flame. Add the bread crumbs to a bowl. In separate bowl break the eggs and whisk lightly. Divide the cutlets into 12 portions flatten slightly.

Roll each cutlet in the breadcrumb mix then dip it in the egg and add to the frying pan with hot oil. Cook the kheema cutlets in batches for 3-4 minutes each side making sure they turn a light brown colour. Be careful as they can splutter slightly. Drain on kitchen paper and serve with chutney and naan.