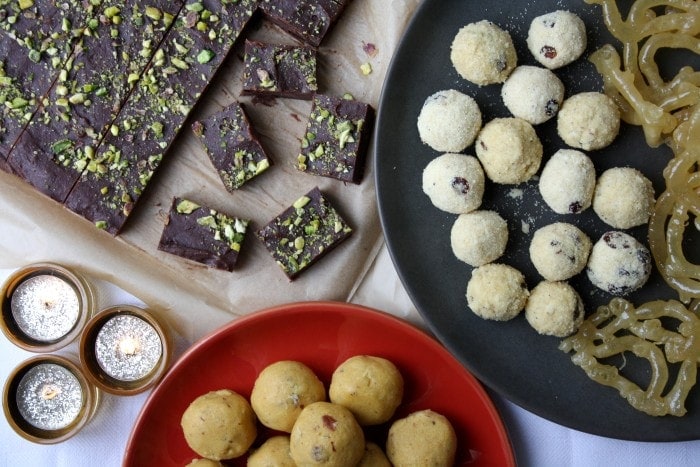 Wishing everyone a very Happy Diwali and wonderful year ahead! I am so fond of this time of the year. The celebration, festivities, lighting diyas, sharing good food and good times with family and friends is what, for me marks every occasion.
It's a weeklong celebration for Diwali; the Indian festival of lights and being a private chef it's also busy on the work front with cookery events for clients and menus planned months in advance. The one thing I love is the feast cooked at every dinner table and with Indian sweets making an appearance at most gatherings, there are so many to choose from. The more traditional barfis and laddoos are always a part of my dinner parties but like my mum I also make Karanji, Besan Laddoos which are perfect with masala chai or even to serve after a meal. Some Indian mithai (sweets) are easier to make than others and when I'm time poor these Rava Laddoos are the perfect recipe for something simple to serve or even if you are just craving a little treat. The addition of coconut keeps them moist. Once you've made them fill up a jar with the laddoos and they keep at room temperature for up to a week. Although they are moreish, so don't be too surprised if they are gone in 5 minutes!
On a separate note I want to say a big thank you to everyone for your emails, wonderful comments, the love and support! I've had an exciting (and busy few months) at work and all through it to see how much everyone enjoys the recipes, reads the website and also cooks from my book gives me so much joy. It's what keeps me going to do better and to do much more. Knowing that recipes that are a part of my life make it to your dinner tables across the world is hugely gratifying. So thank you everyone and wishing you all an amazing year ahead with lots of happiness and good wishes. Happy Diwali!
Method
Melt butter over a low heat in a non stick large sauce pan. Add the semolina and roast for 12 minutes. Make sure to stir continuously so it doesn't burn. Empty in a bowl and cool slightly.

Clean the pan with a dry towel and add the sugar along with milk. Stir well making sure to dissolve the sugar over a low heat for 2-3 minutes. Add the coconut and cardamom powder and mix well for 2 minutes. Turn the heat off and cool this mix slightly.

Add the roasted semolina along with the cashew nuts and raisins. Working quickly while the laddoo mix is still warm roll into little bite size laddoos pressing firmly to form little portions. If the mix starts to dry up and go grainy add an extra 2 tablespoons of milk and mix well. Make sure not to add too much milk as it might go mushy and won't hold together. Serve the Rava Laddoos with a warm cup of chai.