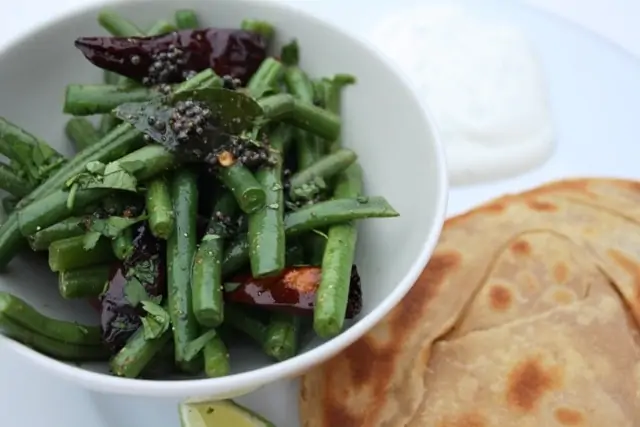 I love the smells from my kitchen at the moment; smoky earthy dried whole red chillies that I just fried off in oil. Infusing the chilli heat in the oil; these deep red variety are glistening in the frying pan and filling my home with the roasted aroma.
If you have been reading my post for a while you'd know I love a good hearty curry. Though to my mind an Indian meal made from scratch does not always translate to a lengthy cooking process. Spiced Indian green beans are just that; bright green beans gleaming in the flavoured oils coated in mustard seeds & chillies but still making them the star of the dish rather than a supporting act to one. A dish with very few ingredients to wake up your taste buds. Served warm with a sprinkling of coriander, lime & sea salt I love eating it with some flaky buttery paratha & plain yoghurt or as my mum would serve it with a substantial helping of yoghurt rice.
Curry leaves, dried red chillies and mustard seeds are all synonymous with Maharashtra, Goa and of course southern Indian cooking. And used generously in most of our traditional home cooked menus. The dried red chillies impart a mild heat but a very distinct flavour. Though if you prefer you can use fresh chillies but make sure to vary quantities based on how hot you like your dish. The recipe also includes a tsp of coriander powder which I feel enhances and blends together the taste of the over all dish.
Method
Heat water in a small sauce pan (about 2lt) and bring to boil. Add the beans to the water and boil for 2 minutes. Drain and run them under cold water and set aside.

In a frying pan heat the oil on a medium flame. Add the asafoetida and mustard seeds. Let the seeds crackle & pop. Now break the dry red chillies in half and add them to the pan along with the curry leaves followed by the beans.