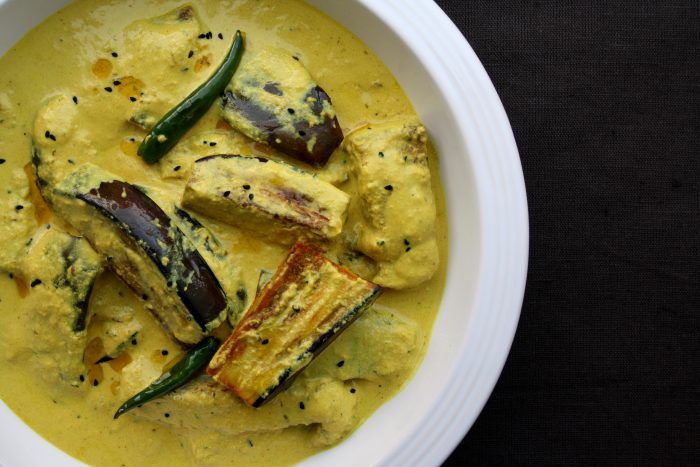 As the evenings get cold and winter isnt far I'm always thinking of curries to cook that will warm up the senses and bring much needed comfort. Not all Indian dishes are heavy, stodgy and take forever to cook. One of the beauties of Indian vegetarian recipes is the versatility of the cuisine and also the variety of spices you can pair with vegetables, beans and pulses. Give me a lamb or chicken curry any day but I'm never far from cooking or testing recipes from Indian communities that celebrate the food eaten in regions with so much flavour, diversity and use of spices.
Shorshe Begun from the east of India is one such dish thats creamy, light and full of flavour. Shorshe meaning mustard seeds are a prevalent part of Bengali cuisine along with poppy seeds. The pungent flavour of mustard works brilliantly in curries with seafood or vegetables. Here I've used aubergines, not only a delicious addition to Indian recipes they also hold their shape well soaking in all the flavour of the spices in the gravy. I use yellow mustard seeds although black mustard seeds are great too. Also reduce the chilli if you prefer a milder curry.
Method
Soak the mustard seeds and poppy seeds in warm water for an hour. In a large bowl add the aubergine pieces along with the turmeric powder. Coat well and set aside.

In a large frying pan heat 3 tbsp over a medium flame and add the aubergine pieces frying for 2 minutes each side turning to brown evenly. Fry the pieces and drain on kitchen paper.

To make the mustard paste; Drain the soaking water and add the mustard seeds, poppy seeds, chilli, yoghurt and turmeric in a blender. Blend to a smooth fine paste.

In a large saucepan heat the remaining 2 tbsp of oil over a low heat. Add the nigella seeds and green chillies fry for 1 minute

Add the mustard paste and fry stirring for 2 minutes. Add the ginger paste continue to fry for further 2 minutes. Add the cumin, sugar and season to taste. Add the water and simmer for 1 minute

Now add the fried aubergines coating with the mustard gravy and simmer over a low heat with a lid on for 4-5 minutes. Stir half way through cooking. Serve warm with plain rice.