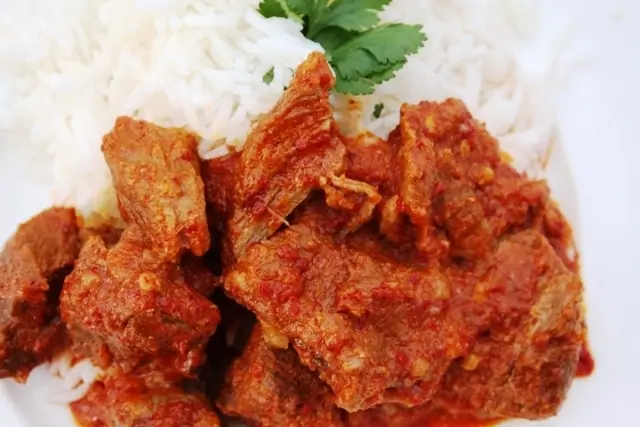 Lush green surroundings and the warmth of the sun hits me straight away; with the smell of the sea lingering not so far away I know I'm in my favourite beachy city of them all – Goa. And the first thing on my mind is getting to my cottage; to settle in followed by a home cooked meal by Mrs. D'souza who runs the host of cottages not far from Panaji the capital of Goa. We get there early evening. The cottage overlooks Miramar beach and a picturesque view of the sun setting with the city illuminating. Too tired to head out anyways; Mrs. D'souza insists that she is going to cook us a meal this evening. 'Something simple, but I hope you people like our local Goan offering' she says. I wasn't going to refuse a home cooked meal and one cooked by a lady who clearly knows her craft ( She also is known in the city to send out fresh Goan food tiffins for orders; and has been doing so for the last 11yrs).
Onto dinner plans and walking through the long corridors a waft of all the home cooking is very hard to miss. I find myself speeding up my pace with a camera in hand yearning to see what's on the menu and also try and catch a glimpse of the first hand organised chaos in a Goan kitchen. A gorgeous banquet is laid out across the rustic colonial table. Coconut fish curry, Pork Vindaloo, Fried masala pomfret, Dal, steamed rice, and also a variety of local homemade pickles including my favourite prawn balchao. Also fresh salad with a squeeze of lime & salt. If this is what she meant by a simple meal I'll have this every day thank you very much!
Steaming hot rice with a ladle of fish curry and masala pomfret on the side was just as comforting as mum's Indian coastal fare. Balance of flavours, spice & tang in the curry was gorgeous. I go for seconds but this time reach for a generous portion of the fiery goan pork vindaloo to go with plain rice.
Not your average 'hot' curry this one! Though I presume the vindaloo you have tried so far has had one of the two or both – a long list of ingredients and a fiery hot taste. Eating Mrs. D'souza's vindaloo only reinstates how misunderstood this pork dish with a luscious thick gravy coating is. Yes there are chillies (lots of them!), vinegar and garlic but that's just it. Besides adding depth to the final dish the ground Kashmiri chillies impart a deep red colour and flavouring to the succulent pork. With black pepper and cinnamon roasting and infusing in the oil; it rounds off the taste of a vindaloo to balance the flavours and impart that additional heat.
A lot of people forget that back in the old days before chillies came into use in India; Black pepper was the spice of choice to deliver that bout of heat in a curry. This dish is very much a marriage of the Goan as well as the Portuguese introduction of chillies.
I could go on telling you of how delectable this meal was & what a lasting impression the pork vindaloo had. But I'll leave you with a vindaloo recipe that doesn't have a list of ingredients as along as my arm. In fact one that is simple, full of flavour (not heat!) and slow cooked with a luscious gravy where all the pork juices lend that gorgeous stock to the final dish.
Method
For the paste soak the chillies in 2-3 tbsp of warm water for 10minutes. In a blender add the garlic, ginger, cumin seeds and malt vinegar along with the Kashmiri chillies and the soaking liquid. Blend to a fine thick paste. Mix the pork with this paste and leave to marinate overnight or for 2-3hrs.

Heat the oil in a heavy based pan and add the black peppercorns, cinnamon stick & green chilli and let them infuse the oil for a minute or so. Turn the heat up slightly and add the marinated pork and fry for 8-10 minutes until browned, sealing the meat through and letting the pork cook in its juices. Make sure to stir well while it's frying.

Now keep the heat low, add the jaggery, tamarind paste and season to taste; pour in about 200mls of water. Bring to a simmer and cover the pot with a lid, cooking for 1 hour. Make sure to stir the curry half through the cooking process. If it looks like its drying out add a little more water but in essence you want a thick sauce to coat the pork well. Garnish with coriander and serve with steamed rice or pao.

Note: this dish tastes even better the following day so making the vindaloo a day before would be perfect.