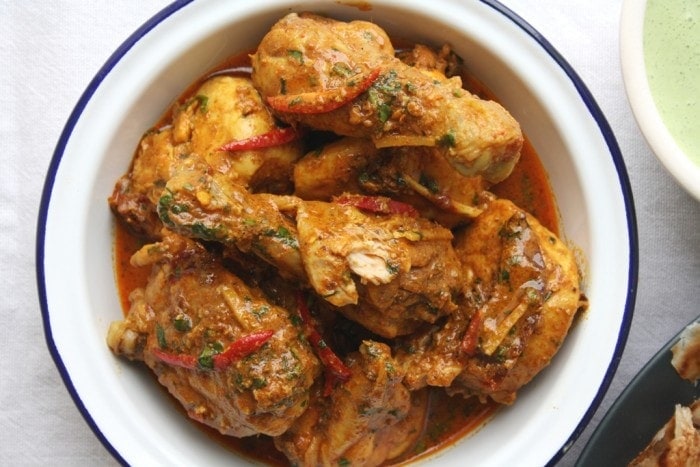 My first memory of eating this dish was in Old Delhi at the age of seven visiting my mum's Punjabi friend at her family home located on a busy bustling street of the city. The smells wafting from the kitchen of the fried chicken, freshly made tandoori roti, chutneys along with halwa to finish the meal were enough to stay with me forever. I still remember the taste, textures and spicing of the Chicken Chargha I ate and it's something that we have been cooking ever since at my home in India.
Traditionally a north Indian dish; kadhai chargha is made with marinated pieces of chicken which are fried in whole spices to form a thick gravy coating all the succulent chicken pieces. Served best with roti/ naan and a mint raita. The addition of ginger & chillies to finish the dish lends a delicious heat and also a refreshing texture & colour. I recently cooked this dish for the team at Sky TV and needless to say it was polished off with empty plates all round.
Method
Add a tablespoon of the yoghurt with the garlic in a blender and blend to a smooth paste. Tip the past in a bowl adding the rest of the ingredients. Marinate the chicken in the spiced yoghurt marinade for 2-3 hours or preferably overnight.

In a wok or a deep frying pan heat the vegetable oil. Add the cumin seeds and dried chillies. Let them sizzle and flavour the oil for 10 seconds. Tip in the marinated chicken pieces and fry on a medium heat for 5-7 minutes stirring continuously.

Turn the heat low and cook for a further 20 minutes with a lid on to help create steam in the wok. Once the chicken is cooked all the way through & tender add the coarse ginger, sliced chillies and coriander. Mix well and serve warm with mint raita.

For the mint raita;

Add the cumin seeds & black pepper to a pestle & mortar & grind to a fine powder. Now add 2 tbsp of the yoghurt along with all the ingredients in a blender and blend to a smooth paste. Tip in a serving bowl and mix in the rest of the yoghurt. Refrigerate & serve chilled with piping hot chicken.