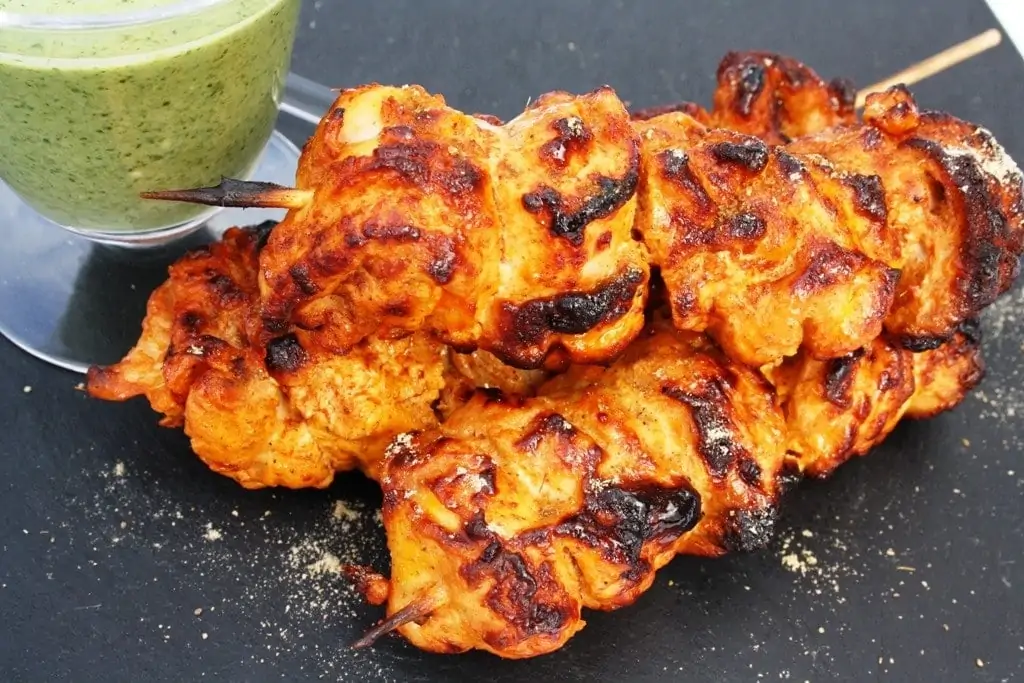 Undoubtedly Tandoori chicken is the king of all tikkas in the tandoor repertoire. Amidst all the street food, kebabs, tikkas, biryanis and grilled meats I've scoffed down over the years in India and the UK; this dish is a firm fixture on every restaurant and street cart menu. There is an array of tandoori chicken dishes on offer and a few I have covered on the blog as well including Kali Mirch Murgh Tikka cooked with crushed black pepper and also my favorite recipe Kandhari Murgh Tikka cooked in pomegranate molasses and spices.
Easy to cook, healthy and always a crowd pleaser it's perfect for this (dare I say sunny!) weather. Nothing better than brightening up a warm day with sunshine, tikkas on the bbq. The smells of the marinated chicken cooking with its moist juices is mouth wateringly good. Sprinkled with chaat masala served in flat bread with a dollop of freshly made mint chutney and some salad.
I recently cooked this for my BBC Newcastle Radio Food chat with Simon Logan and needlessly to say the team in the studio polished it off in no time.
The natural red colouring in my recipe comes from the paprika and chilli powder I use. To enhance the taste as well as the colour add a pinch of crushed saffron strands to the marinade. I prefer chicken thighs which are a more succulent cut though chicken breast works equally well.
This is also the basic marinade that is commonly used to cook the chicken before making Butter Chicken (aka Chicken Tikka Masala).
Method
Add the ginger, garlic and green chilli in a wet grinder and blend to a smooth paste. Mix the yoghurt with the gram flour in a bowl to get rid of any lumps to form a thick paste like consistency. Add the ginger, garlic chilli paste, paprika, chilli powder, garam masala and coriander powder. Also mix in the ground cinnamon, saffron and salt. Stir well and tip in the chicken pieces and mix well making sure to coat them in the thick marinade. Leave to marinate for a few hours or even overnight if you prefer.

Soak wooden skewers in water. Preheat the grill on medium. Shake off the excess marinade and thread the chicken pieces onto the skewers and place them on a wire rack. Cook under the grill for 15-20 minutes. Turn the skewers every 5 minutes & baste with melted butter until the juices run clear and they are cooked through slightly charred around the edges.

Serve warm over roti or parathas sprinkled with chaat masala and lemon juice along with mint chutney and salad