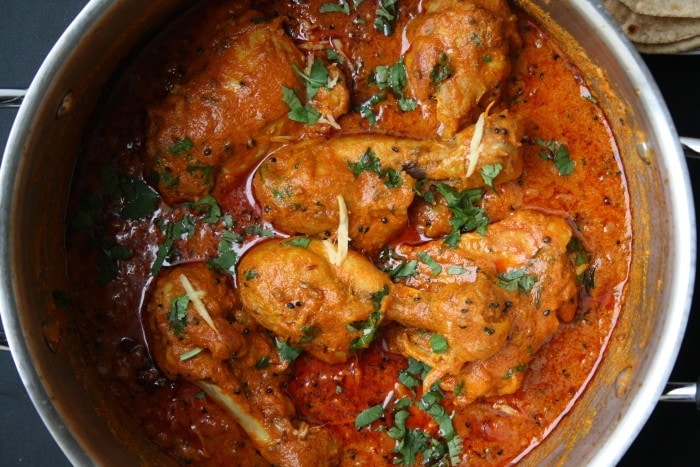 A very synonymous North Indian curry and I have to say its one of my favourites. I cook this regularly and still cant get enough of it. The preparation is typically like any Indian curry but with ingredients that pack a punch and very authentic in flavour and taste. This dish has been made in the north, particularly places like Rajasthan for a long time. As the weather in the north of India is quite warm, curries such as this using pickling spices, enhance the flavour whilst helping to preserve the food for longer. Mustard oil in this dish makes the chicken rich and moist but even vegetable or sunflower oil can be used as an alternative.
The yoghurt makes the gravy thick which helps coat all the chicken pieces evenly. Tailor the heat your requirement by using a little less of the whole red chillies and the chilli powder. Like any other meat dish, if this is made a little in advance the taste develops and is much nicer. But I'm not one for waiting around, so once cooked its good to eat straight away mopped up with warm rotis or even a green peas pulao & some raita to accompany.
Method
In a heavy bottom sauce pan heat the mustard oil. Add the fenugreek seeds, mustard seeds, cumin seeds, fennel seeds and nigella seeds. Sauté until they start to sizzle and pop for a min or so. Also add the whole red chillies, stirring to make sure they don't burn.

Add the sliced onion and fry until light brown in colour and have softened for about 8-10 mins. To the pan now add the ginger/ garlic paste frying for a few seconds. Mix well. Stir in the tomato puree, turmeric powder and chilli powder. Cook for a couple of minutes till the oil leaves the sides of the pan.

Add the chicken pieces cooking on a medium heat to make sure the pieces are sealed and coated in the gravy for 5-7 mins. Add the water and bring the curry to a boil, then simmer covered on a low heat cooking for 20 mins until the chicken is cooked through and succulent, stirring a couple of times

At this stage, add the yoghurt and stir, making sure not to let it split and continue cooking on a low heat with the lid on for 5-7 minutes. Add salt and lemon juice to taste. Garnished with coriander. Serve hot with roomali roti or naan. Enjoy!