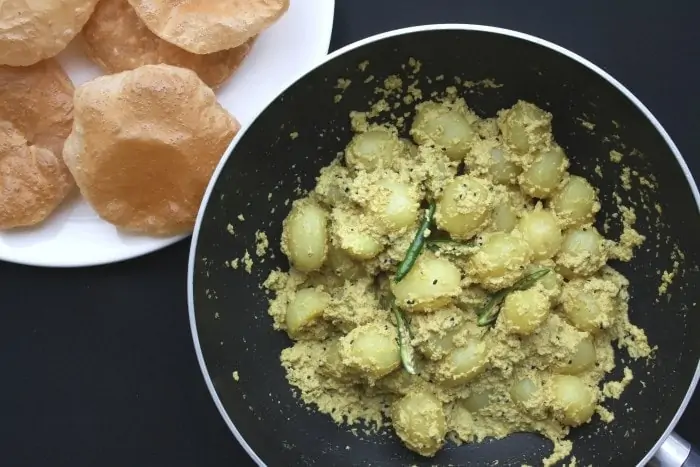 Sometimes the simplest of ingredients produces a fantastic gem of a dish which you savour for years to come. This Aloo Posto is a classic example of how just a few ingredients can yield a creamy spiced potato dish. A staple in Bengali households and one of my all time favorite recipes. I have eaten this so many times at my bong friends homes and served with dal, rice and some pickle; has always been (for me!) the best way to savour the flavours. Though a few years back I tried it at a restaurant in Mumbai where they made it with new potatoes. Ever since thats how I cook it using baby potatoes although regular diced potatoes work well too.
Most Bengali kitchens will always have two ingredients- mustard oil and white poppy seeds. The addition of mustard oil in this recipe brings out a lovely pungent flavour to the dish so if you are able to source mustard oil make sure to use it. The key to cooking this dish is giving the poppy seeds enough time to soak in warm water. It will ensure they grind to a fine paste. As the aloo posto cooks the water dries out slightly, so add a little more at the end if you feel it is too dry. You're looking for a rich gravy that clings to the potato chunks.
Method
Soak the poppy seeds in a bowl of hot water for 2 hours. Make sure the water covers all the poppy seeds. Using 4 tbsp of the soaking liquid add the poppy seeds to a blender and grind to a paste. Set aside.

Heat oil in a heavy bottom sauce pan heat the oil over a medium flame. Add the nigella seeds and green chillies. Fry for 7-8 seconds and add the peeled potatoes. Mix well and fry for 5 minutes.

Add the turmeric powder and stir well. Put the lid on and continue fry for further 5 minutes. Stir and add the poppy seed paste making sure it coats all the potato pieces. Add the water and season to taste.

Bring to a boil and simmer with the lid on for 15 minutes. Stir halfway through cooking. Add a pinch of sugar and a few more chillies (if you like it spicy) and simmer for 2 minutes. Add a little more water if it gets too dry.

Serve with puris or a bowl of dal and rice/ dal bhaat.