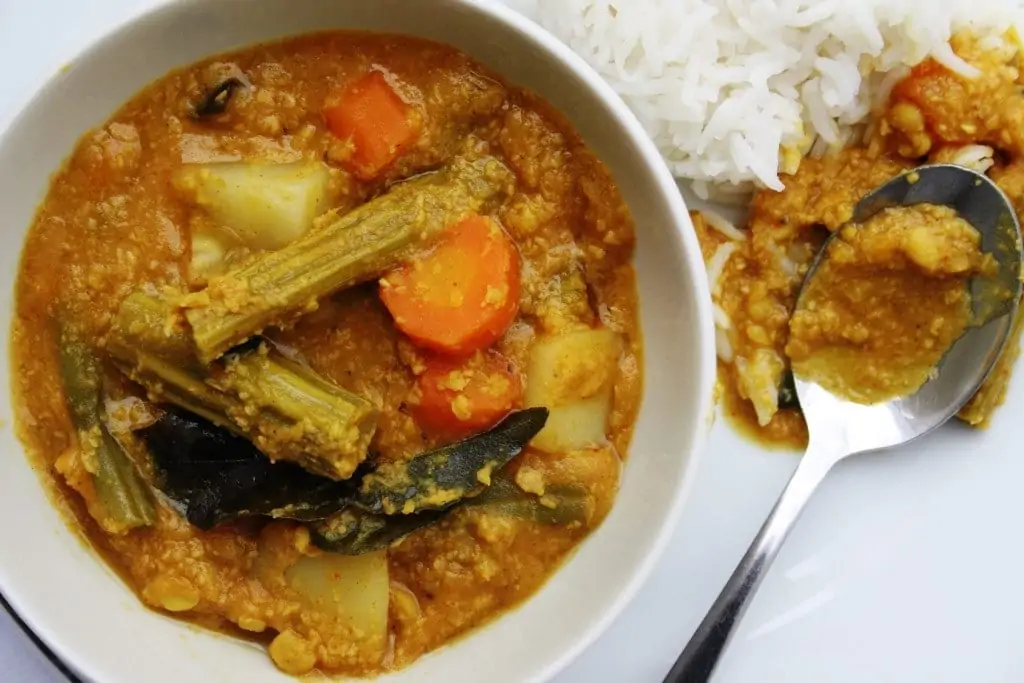 When people think of Goan food the first thing that comes to mind is a fish or prawn curry; given the abundance of fresh seafood in the region. In fact the city is thriving with some amazing vegetarian dishes with unique ingredients and flavours.
With regional blurred boundaries on Indian cooking and commonly used spices across different cultures this vegetable stew is cooked among the Konkani community that is thriving in the west of India. 'Khatkhate' is a spiced vegetable stew/ gravy with lentils, coconut and spices. I fondly remember eating this at home in India. Served warm over steaming hot rice and a dollop of ghee to finish. Nothing and I do mean nothing is better!
The combination of lentils with a coconut spice paste gives this dish depth but also is what makes it a filling meal in itself. You can use any root vegetable that's available including squash, sweet potato, radish or sweet corn cobs.
I have gone with some readily available green beans, carrots, potatoes and my favourite ingredients used widely in Indian dishes drumsticks.
This isn't really a hot curry but a gravy dish that is full of amazing flavours. The inclusion of curry leaves, ginger, black pepper, small amount of mild chillies and turmeric make up the bulk of the recipe. But there is also 'tirphal' or Sichuan pepper; commonly used in Konkani and Mangalorean dishes and grown around Maharashtra and southern India. I remember my mother adding them to fish curries as well. The flavour of tirphal isn't hot but more lemony with a refreshing warmth. It's this flavour which makes the dish unique and so good. Might I add it is quite addictive so go easy on the quantity you use. Best added whole or coarsely crushed in meat, fish and vegetable curries. For my recipe of Khatkhate the tirphal berries were slightly smaller so I've added a teaspoon but if you're able to get slightly bigger ones make sure to reduce quantities.
Most dishes use a souring agent; yoghurt, tomato, tamarind or even mango are quite common. Also the use of 'kokum' is very popular within the Maharashtrian, Gujarati and southern Indian communities to add a tang to dishes. The cover of a fruit that is dried and used in many curries, drinks, pickles and even mixed with vegetables.
I am tempted to say you could swap this for tamarind if you're not able to find any, but do try to get hold of kokum. The petals impart a sweet and sour flavour along with a deep purple/ pink colour.
To find out more about any of these ingredients make sure to check my spice pantry below for tips on how to use them and more recipe ideas.
Method
In a heavy bottom saucepan, add the lentils along with the water and pinch of turmeric. Bring to a boil. Skim off any foam with a slotted spoon and simmer for 30-35 mins until the lentils are cooked through. Add a little more water if the mixture becomes too thick.

Turn the heat off and separate the stock from the dal. Mash the dal roughly with a potato masher and set aside. While the stock is still warm add the kokum petals to it and mix in to help release their colour and flavour.

In a wet grinder blend the coconut paste ingredients to a fine thick paste with the help of a little water.

In a heavy bottom sauce pan heat the oil, add cumin seeds and let them sizzle for 10-12seconds. Add the curry leaves letting them splutter; followed by the coconut paste. Fry the paste on medium heat for 3-4 minutes stirring and making sure to scrape off the bottom. Add the cooked mashed dal and fry on a medium heat continuously.

Now add coriander powder, jaggery, tirphal berries, salt and the dal stock with the kokum petals. Stir well and add the carrots and beans. Bring to a boil and simmer for 10-12 mins. At this stage add the potatoes and the drumsticks and continue to simmer the gravy for 8-10 minutes stirring every few minutes making sure it doesn't stick to the bottom of the pan.