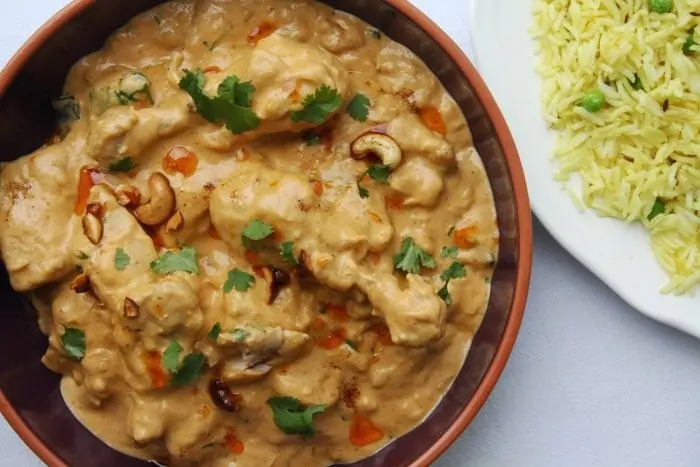 There is such a variety of Kormas within regions of India; each using their unique techniques of cooking and ingredients that are synonymous with local communities. One of the most popular dishes from my cook book Indian Kitchen was the Hyderabadi green chicken masala. Apart from the inclusion of coriander & mint making it such a stand out dish I also use cashew nuts which lend a lovely richness and creamy flavour to the curry. Blended cashew nut paste is commonly used in India cooking and especially when you are looking to get that smooth creamy consistency yet lending some richness to the dish. A blended paste like this is great to thicken sauces too.
A few years back I attended a family wedding in Hyderabad and the green chicken curry was the recipe my friend's mother so kindly shared with me. That evening, I was invited to an Indian feast at their home where she cooked a korma. I was curious to find out if all kormas were painstakingly lengthy recipes and if they took forever to make. She disagreed and cited her method of cooking as easy as it could get, to give it a creamy delicious gravy. And I agree her recipe which she inherited from her mother in law, is a classic example of how simple it can be with amazing flavours. While she was talking me through how she had made it, I wrote it all down on a scrappy piece of paper. I remember rushing to write it just so I wouldn't forget the little tips she gave to cook the korma. Looking through my notes recently I found that little piece of paper and here's the result. A really easy yet scrummy korma which I savoured during the meal years ago in Hyderabad and still remember fondly.
This Murgh Kaju ka Korma is flavoured with whole spices including cardamom, cloves and bay leaves which give it the required warmth alongside chilli for the heat. I'd cook this recipe when I want to impress my guests with a delicious korma. If you are vegan and planning to cook this Korma, make sure to leave the yoghurt out but add a little more of the cashew nut paste for a luscious curry.
Served with a pulao and some salad it really doesn't need much else.
Method
Mix the yoghurt with the chilli powder and turmeric powder in a bowl and set aside. Add the ginger and garlic to a blender with a little water and blend to a thick smooth paste. Set aside and in the same blender add the soaked cashewnuts with 100mls of the soaking liquid. Blend to a smooth fine paste and set aside.

In a heavy bottom large non stick saucepan heat the oil over a medium heat. Add the whole spices and fry for 2-3 seconds. Followed by the chopped onions; stirring well and continuing to fry for 16-18 minutes

As they begin to change colour and brown add the chicken along with the ginger and garlic paste and fry for 5 minutes. Stir well making sure to seal the chicken pieces.

Add the yoghurt spice mix and stir well coating the chicken pieces and continue to fry for 2-3 minutes. Add 50mls water, season to taste and simmer over a low heat for 20 minutes with the lid on. Make sure to stir half way through the cooking process.

Now add the cashewnut paste and simmer for a further 5 minutes over a low heat stirring continuously. Garnish with fresh coriander and cashewnuts. Serve with naan or pulao.