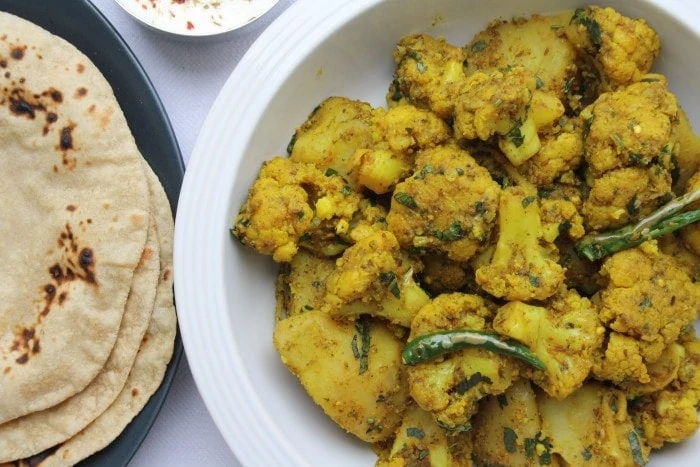 National vegetarian week last week has had so many of you visiting the website for cooking inspiration, vegetarian curry recipes and also sharing photos on Instagram, Twitter and Facebook of everything you've been cooking from the cookbook and all the recipes you've tried here. I continuously get requests for recipe you want to find out more about. Aloo Gobi has been by far the most requested. There are plenty of versions using the humble cauliflower in Indian cooking including with gravy, pickled with spices alongside regional variations of this dish. I've shared a really delicious cauliflower curry with green peas in my book which is a family favorite. This recipe for spiced cauliflower with potato is my go to for when I need something thats easy and delicious. So its great for a midweek meal and also brilliant as an accompaniment when you have plenty of variety at your dinner table.
Punjabi Aloo Gobi cooked with turmeric, chillies, coriander and ginger all lending a delicious flavour to the vegetables. This is a dry dish and perfect to scoop up with chapattis or naan along with raita. I prefer using chunks of boiled potatoes as it speed up cooking and also the potatoes soak up all the flavour from the spices and any remaining moisture thats leftover in the pan. One of my favorite ingredients in Indian cooking is dried fenugreek leaves and is perfect to finish the dish. I use it in vegetarian as well as chicken dishes. You can leave it out if you are not able to get hold of any and add a little more fresh coriander.
Method
In a non stick large heavy bottom saucepan heat the oil over a medium flame. Add the hing and cumin seeds. Fry for a minute followed by the ginger paste and slit green chillies. Fry for 20 seconds and add the turmeric and coriander powder frying for a few seconds

Add the cauliflower florets and season to taste. Stir well over a medium heat for a minute making sure the florets are coated in the spices well

Add 50mls water and stir. Turn the heat to a low setting and cook for 15-17 minutes with a lid on. Make sure to stir halfway through cooking.

Add the boiled potatoes and mix well. Garnish with coriander, lemon juice, kasoori methi and ginger slivers. Stir well and turn the heat off keep warm with a lid on for a few minutes. Serve warm with chapattis and raita.