This is the one dish that I absolutely love. Well you probably think I say that about a lot of the recipes I feature on my website. But if your memories of eating Kheema Pav were anything like mine you would agree when I say it is THE quintessential dish in Indian cafes and street food stalls all across India.
A no frills cafe would be the best place to sample this delight and as a family we always did. Peeling, chipping paint off the walls, Portuguese inspired furniture with fans dotted along the ceiling that barely moved. The artwork, paintings and photos all resonated the 50's & 60's old school lifestyle in India. But we were only there for the food which was always honest, freshly cooked and ever so delicious. Scrolling down the mouth watering menu, debating what I should order so I don't miss out on any of the dishes. Our order would include Mutton gravy, kebabs, cutlets, some offal dishes cooked in spiced gravies like bheja fry (brain fry), kaleji (liver) masala or gurda (kidney) curry. And of course kheema pav. Kheema or minced lamb slow cooked in spices garnished with fresh coriander was always served with what we called laadi pav. A generously helping of kheema mopped up with pav & squeeze of lemon eaten to my heart's content. The melt in your mouth spiced kheema with a hint of zingy lemon cutting through the heat and richness of the dish with crispy red onion salad. That's exactly how I remember it.
Pav or bread roll as it is known were always made fresh using a basic bread recipe. Though, there was something unique about the taste of these pavs; a taste that still lingers for me. My fondest memories have been buying fresh warm pav from bakeries in India smearing them with Amul butter which melted and soaked into the bread instantly. Scoffed in minutes or even better when we had 'chai' to dunk the bread in; Life was better with just the first bite.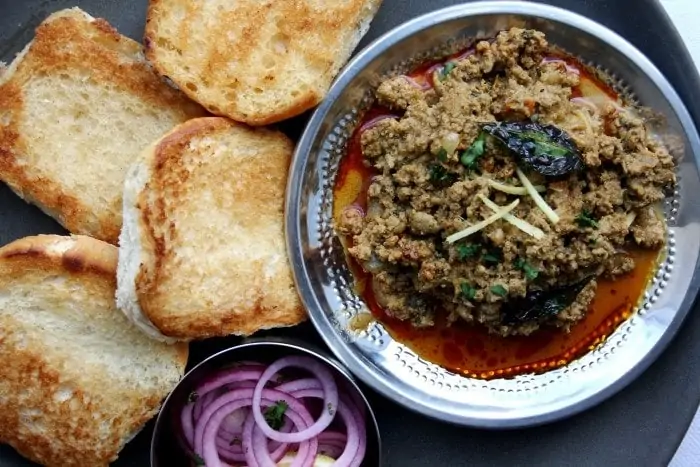 My recipe for Kheema pav is a tad lengthy but well worth it and one that I feel emulates that cafe feeling served up warm in small steel plates with a portion of the pav in tow. Squeeze of lemon and onion rings on the side I'm always ready to tuck in.
Method
Add all the spice powder ingredients to a coffee grinder and blitz to a fine powder. Blend the ginger and garlic to a fine paste & mix it with the mix lamb and set aside while you get started on the curry.

Heat oil in a heavy bottom sauce pan. Add the curry leaves and let them splutter; tip in the onions and fry for 5-7 minutes until soften and light brown. Now add the chopped tomatoes and fry over medium heat cooking until they can be mashed slightly with the back of your spoon (further 5 minutes). At this stage add the green chillies, chopped coriander, chilli powder & turmeric powder. Stir well to cook the spices for a couple of minutes and add the minced marinated lamb.

Keep stirring on medium heat and break down the lamb to make sure there are no lumps mixing in all the spices. Cook for 5 minutes and then add 150 mls of water. Bring to a boil and simmer on a low heat; cooking with the lid covering the pan half way. You want the lamb to cook for 20 minutes or so until it's almost absorbed all the water.

Now add the coconut milk and the powdered spice mix. Simmer for a further 5-7 minutes. Lastly add the sugar, vinegar & salt. Stir well. Cook for a further 5 minutes. Turn the heat off garnish with coriander and lemon juice. Serve warm with pav/ soft butties and some fresh salad.