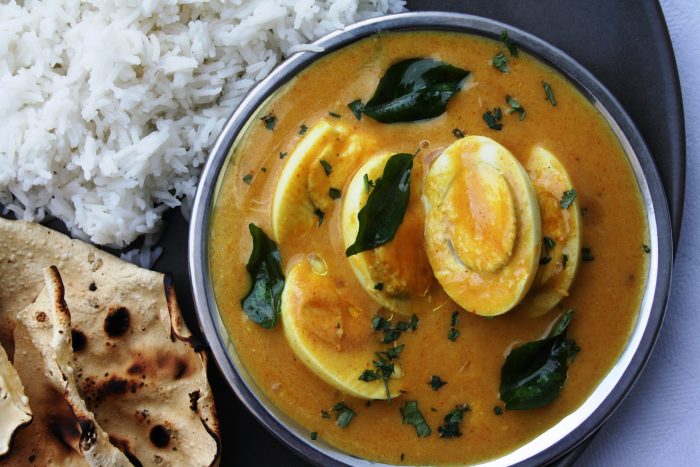 I have been eating this curry since I was a little girl. On the menu was usually a spicy egg curry, some steamed rice, along with something crispy fried like papad or crispy fried chillies. Wholesome comfort food and just what January needs! The taste of the sour tamarind, chilli and thick gravy, all of it coating the egg makes this dish really good. I have adjusted quantities of chilli powder to make it a little milder although feel free to add a touch more if you prefer a spicy curry.
Indians most certainly know how to cook eggs with spices and make it truly delicious. Masala Omelette or in curries, there is loads to choose from for breakfast or quick delicious dinners.
Method
Add all the paste ingredients to a blender with a couple of tablespoons of water. Blitz to a smooth fine paste. Set aside.

In a bowl add the chickpea flour along with a little water. Mix well to form a smooth runny paste with a consistency of double cream. Set aside.

Heat oil in a heavy bottom sauce pan on a low heat. Add the green chilli along with the half the amount of curry leaves. Quickly add the paste and stir well to make sure it doesn't stick to the bottom of the pan. Fry the paste for a minute and add the water. Stir well and simmer on a low heat for 2-3 minutes

Now using a whisk slowly add the chickpea flour mix a little at a time whisking as you do to make sure there are no lumps. Keep stirring on a low heat for 5 minutes. The longer you cook it over the hob the thicker it will get. Season to taste and add garam masala powder

Turn the heat off and add the halved boiled eggs to the curry. Cover with a lid and leave to rest as the eggs steep in the curry for a while before you serve. Garnish with the remaining curry leaves and fresh coriander leaves. Serve with steamed plain rice and papad.