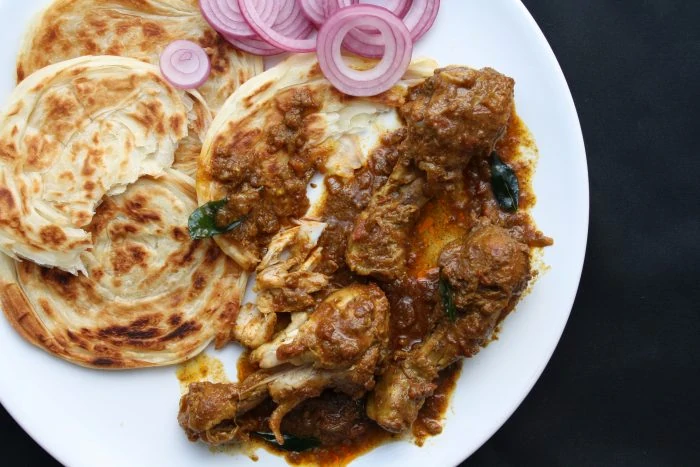 Travelling across the region of Tamil Nadu early last year has been one of the best experiences. And despite having visited cities in this state a few times over the last few years it gives and insight into the diversity within the region (and yes there is more to the food here apart from Chettinad flavours!) but also the variety of spices, techniques of cooking, homemade breads and curries to sample has been an eye opener. From Mudliars, Chettiars, Tamil Muslims and Naidus the food influences are vast. With many of the ingredients used widely even closer to home in the west of India; this sense of familiarity made cooking, exploring and eating curries from this region an absolute joy.
Pepper is such a synonymous spice in Tamil style cooking and gives dishes not just heat but depth and immense flavour. This recipe for a pepper chicken kozhumbu is an absolute winner and perfect for anyone looking for a spicy chicken curry with warmth and heat from whole spices including black pepper, cloves, fennel and dried chillies. The key here is using the ground blend of spices that is a classic in most recipes with families using stone grinders (yendra kal) to pound them realising the aromas and essential oils.
Now of course spice grinders have made way and grind them in minutes! There isn't any chilli powder in this kozhumbu/ curry and the green chillies add the bout of heat required although feel free to reduce the amount of chillies based on preference. I've used chicken drumsticks for this recipe although any cut of chicken would suffice. If you can, make this recipe in a few hours in advance as the curry gets a wonderful taste, it also give the chicken a chance to soak in all the goodness of spices. I know it's the middle of summer although I can't resist a plateful of pepper chicken curry with flaky paratha to mop up the delicious gravy and some yoghurt or salad in tow.
Method
Grind the garlic and ginger with a splash of water in a wet grinder to a thick paste. In a large bowl add the garlic and ginger paste along with the turmeric powder and mix well. Add the chicken pieces to this paste and set aside to marinate for a few hours or overnight.

Grind all the ingredients for the pepper masala in a spice grinder and set aside.

Heat oil over a medium flame in a heavy bottom large sauce pan. Add the curry leaves and as they splutter add the onions. Fry the onions for 12 to 15 minutes stirring ever so often.

Now add the green chillies and fry for a minute. Add the tomatoes and fry for 8-10 minutes as they begin to soften stir well and mash lightly with the back of the spoon.

Add the marinated chicken and fry on a medium heat for 5 minutes. Stir well and add the pepper masala powder continuing to fry for 2-3 minutes as the chicken pieces seal.

Add water and scrape the bottom of the pan making sure it's a thick paste coating the chicken. Season to taste and simmer over a low heat with the lid on for 25-30 minutes stirring half way through (add an extra 100 mls water if you would like a little more gravy). Take the lid off and stirring well, garnish with fresh coriander and serve with parathas or rice.